Good morning boys and girls!  Mrs. Claus and myself, Harvey and all the Elves awoke this morning to the most beautiful new blanket of freshly fallen snow…..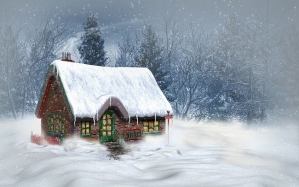 Its always fun to tromp out and see your footprints and nobody else!
Well, a lot is going on here at the North Pole Toyshoppe as you can imagine.  Building and testing the toys, meetings with 'Elfs on the Shelf', checking the Naughty & Nice list regularly, eating Percy's treats and the like.  But a little bit of inside news you might not know is…..  Harvey pulled another of his patented 'pranks' on Santa last evening!!  HO! HO!  He's quite the jokster 'ol Harv is…
It seems that Harvey has been taking 'baking lessons' from Percival – our Head Baker.  You know how Harvey loooooooves to eat!  Well, yesterday Percy was showing Harvey how to make his world famous Caramel Apples, but since Percy didn't have enough to practice with, Harvey decided to use a white ONION instead!  JUST to Practice with, he said…..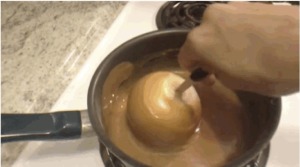 Well, somehow that 'practice Caramel Onion' found its way onto Santa's tray of Treats yesterday, and when I took a bite expecting the sweet taste of Percy's caramel Apple … well you should have seen the look on my face when I bit into that onion!!!  HO! HO! HO! HO! HO!  Needless to say, I knew who was at the bottom of the prank!!  ol Harvey.   But we all had a good laugh over it and Harvey has promised not to do anymore 'practicing' unless Percy or I are supervising.  HO! HO! He even did all the dishes for Percy in the North Pole Bakery shoppe and promised to do the same for the next two days.
So boys and girls I know its easy to make a mistake or two this time of year, but there are always ways to make it up.  So try as hard as you can to be good, but if things don't go your way – offer to make it up any way you can…
That's all for today!!  We'll see you next time………  HO! HO! HO! HO! HO!