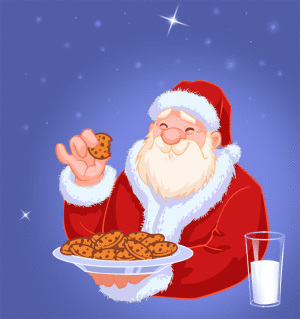 Hello again boys and girls!  We had a long weekend and just got back to the North Pole Toyshoppe a few minutes ago.
I took the newly painted and refurbished Christmas Eve Sleigh on a trip to North America Saturday to see some special boys and girls.  We found them at shopping malls, Holiday parties, parades and at family reunions.  We were in Utah, California, Nevada, Idaho, North Dakota, Nebraska, Kansas, Oklahoma, Texas, Kentucky, Pennsylvania, New York, South Carolina, and Florida!! To make sure our timing for the Big Night is just right we had to practice the best possible route to make all of our special deliveries in just one night!  We also have to make sure all your addresses are properly loaded into our Garmin GPS so we don't miss anyone when delivering all these toys we have piling up in the Toyshoppe.
But if you're changing plans on where you'll be spending Christmas, don't worry.  Santa and all his fancy electronic locating devices will find you wherever you are in the Big Wide World!  HO! HO!  After all these years, we've got it figured out….
One of the most popular questions of the day yesterday was "Where did you park your Sleigh?"  Well, we almost always find a small airport with lots of lights, so we can see it from high above.  Then because there is so much flat area we can land easily and then have a special Santa 'Taxi' waiting for us.  They then drive us to our locations and back – then its into the Sleigh and off we go ZOOMING back to the North Pole!!
We're getting close to single digit numbers till Christmas!!!  Only 11 more days and 10 more nights!!!!
OH, I just heard the 'Treat of the Day' alarm go off!!   Percy promised some Santa cookies and milk today.  So till next time, Merry Christmas to All and stay on the 'Nice' list!!!