Well boys and girls, the CLOCKS are ticking!!  and its a whirlwind of activity here at the North Pole today!!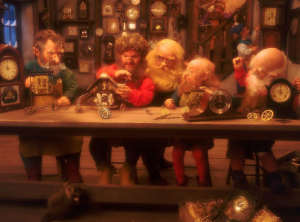 The snow is falling, the toys are being assembled, wrapped and packed, and the Reindeer are getting nervous.  The Elves are reporting VERY good news from all you good boys and girls around the big wide world.  Harvey and I are so excited that we're eating TWICE as many Treats of the Day now!!  Percy has been making fudge, pastries, breads, apple pies, custards, TONS of chocolate chip cookies, gallons of hot cocoa and apple cider, pudding, chocolate muffins and cakes…… it is so wonderful!  The smells are so delicious too.. they keep us going round the clock to get ready for Christmas Eve…
Keep your letters coming!  We won't forget anyone that sends Santa a letter so mail them in to Santa@SantaAndHarvey.com and we'll get a response out to you as fast as we can!!
Harvey was up to his old pranks again last night during Reindeer flight practice.  He taped a harmonica to the front of the Sleigh and when we were practicing our take offs and landings we heard this beautiful sound – but could not for the life of us figure out where it was coming from!  HO! HO! HO! HO!  Finally on the last landing of the night Harvey showed me what was causing the music and we all had a good laugh over that one!!!
We're going to have another new book up on the website very soon so stay tuned for that too.
OK, we've got to get going because I have another trip to make to the MidWest of North America this morning to see some good boys and girls in Tulsa, OKC, Dallas and Houston!!  So be ready…
Only 5 more days till Christmas… and that means only 4 more nights till Santa and Harvey and the toys, we'll at leave.  Delivering joy on Christmas