Hello again from the North Pole Toyshoppe!  Its snowing pretty heavy here today and we've got 2 new little baby reindeer to care for.  Here is Jingle and Jangle!  They are very energetic – and hungry!!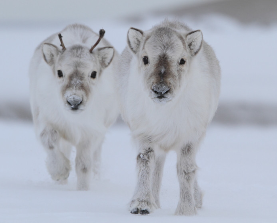 Harvey named the first one (a boy) Jingle.  You know his last name is Jingles so he thought that would be fun…. and the second one (a girl) had to be close, so we named her Jangle.   They were born only a few minutes apart and hardly ever leave each others sight.
The Reindeer Barn Elves have their hands full keeping fresh hay in the stalls and feeding all our herd, especially now with 2 little ones.  You boys and girls should think about how much care and attention little puppies and kittens need too.  Its always best to ask mom and dad if they think you can handle all the responsibilities of taking care of these pets.  They are a lot of fun, but they can also be a lot of work, especially when they are young!
Its time to get back to work in the Toyshoppe…. we've got a lot of toys that need to be assembled today and tested later this evening.
Thanks for stopping by!!  See you soon!!  HO! HO! HO!!!!