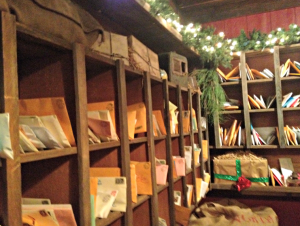 WOW!  Henry Wahoowa our mail train conductor/engineer has been very busy delivering mail from all over the world! We are getting mail from Albania to Zimbabwe and all points in-between.  Some of you have been asking for stuffed animals and REAL animals.  We are getting requests for puppies, kittens, monkeys, hamsters, turtles, frogs, birds, horses, pigs, snakes, fish, even BEARS!!  HO! HO!  Well, I'm not sure how some of these critters would handle the trip from the North Pole but nothing surprises 'ol Santa after all these years of bringing presents to you boys and girls.
Remember, Santa has to make sure you are old enough and responsible enough to take care of pets like these.  Some places where you all live won't allow such animals to be had as pets.  For instance a pet horse is pretty tough to handle if you live in an apartment in New York City!! HO! HO! HO!……  So Santa may or may not bring you everything on your list but that doesn't mean you weren't good.  Its just that we all need to be careful in what we wish for and understand that mom, dad and Santa always know best.
Some of your letters are asking to have your presents given to others who may not be as fortunate as you have been, and that warms Santa's heart!  Its so nice to see how thoughtful and caring you boys and girls are.
Keep your letters coming!  We will answer everyone that we get.
Be good and we'll see you soon from Santa's Toyshoppe here at the North Pole!!
Merry Christmas…. only 16 more days till Christmas!!!!